MISSION STATEMENT
Grow and Extract Organic Food Ingredients from Nature's Complex Resource
At Intrinsic Organics, we continually strive to extract premier ingredients for our customers that can be tailored to their formulations. We enable our customers to give the consumer the healthiest food possible by providing the highest quality of organically grown and naturally produced food ingredients.
Our proprietary organic ag-crop, the SunSpud™, is exclusive to Intrinsic Organics and requires minimal inputs. With our SunSpud™, we can produce 100% organic and domestic inulin.
At Intrinsic Organics we are proud to bring this product to market and we're excited to present our future plans. Use the links below to find out more about what we're doing at Intrinsic Organics.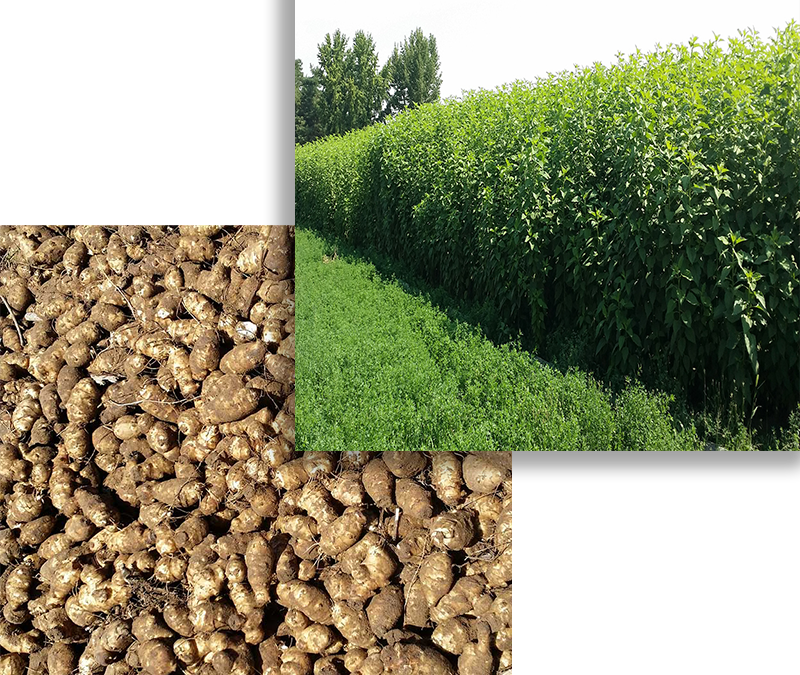 SUNSPUDS™
SunSpudsTM, a non-GMO variety of the Jerusalem Artichoke plant has been aggressively researched since 2004 achieving optimal results.
With the help of the University of Idaho and the University of Maine, SunSpuds™ were developed and defined its agronomic requirements, i.e row spacing, nutritional and irrigation needs, disease resistance and organic growing.
The Idaho and Maine studies showed that SunSpuds™ has no known predators or diseases and is a very robust plant.
A short season climate demonstration in Alaska proved that SunSpuds™ can be grown in harsh climates.
A 77 acre commercial demonstration proved the large scalability of SunSpuds™ and its crop yields.
Through several trials we advanced a simple proprietary and natural process where SunSpuds™ can be produced into organic inulin. Our trials also proved the capability of customizing inulin functional properties with minimal, non-chemical and only mechanical means.
CERTIFICATIONS
Don't just take our word for it.